360 Club presents: inFade - Single Launch
Lending Room, Leeds.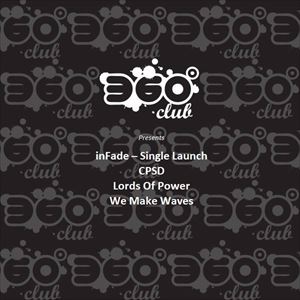 inFade - celebrate their single release and are joined by
CPSD - "Great Song - vocals and guitars are great!" George Vjestica (Nick Cave & The Bad Seeds // Bandante)
Lords of Power
We Make Waves
For a stunning rock show!
This event is for over 18s only - No refunds will be issued for under 18s.
More information about 360 Club presents: inFade - Single Launch tickets
"Like a love child of the Red Hot Chilli Peppers and Rage Against The Machine. If you like loud punchy rock and sexy bass riffs this is the band for you" - Denim + Leather Mag'
"They play really brilliantly well. This is band who really get into it, it's not a 'stage act' but it's visually exciting. They hover around that sort of heavy alternative rock, grunge-y riffing, almost metal - Stuff like this, that relies on three people locking into something, isn't going to work if they don't know what they're doing musically, and inFade can play, they play really brilliantly well. They are really worth catching." -Local sound Focus
inFade return to 360 Club, following their smash Independent Venue Week show with Gus – alt J, to launch their new single EMBERS.
"I love this band. Powerful, soulful songs delivered with joy and blistering commitment. I give you CPSD!" Maxi Jazz (Faithless)
"Great Song - vocals and guitars are great!" George Vjestica (Nick Cave & The Bad Seeds // Bandante)
https://youtu.be/Mly3dIPYql0
Founded in 2017, CPSD is the solo project of Chris Dover, with accompaniment of the former Djingo rhythm section.
Chris started out playing rock and metal influences, in bands such as This Black Velveteen, moving into reggae influenced punk with Tuffasonics, and many other bands & genres spanning 15 years. For the last 3 years, Chris has played slide guitar with Maxi Jazz (Faithless) & The E-Type Boys.
CPSD was founded out of Chris' eclectic musical influences, bringing together rock, heavier blues notes & electronic synths & beats, to produce a sound like no other.
https://soundcloud.com/user-39202384
"If we'd had the Large Hadron Collider back in the early 90's and, somehow, fired the early Manic Street Preachers at high velocity into Rage Against the Machine; you might very well have ended up with Lords of Power. The audaciously named Yorkshire alt-rockers recently completed their ranks with bassist Dan Idol (of the much loved 'The Idol Dead') and are well positioned to do something rather special in 2019."
"Mixing up a Molotov cocktail of unique yet familiar guitar grooves, keeping apace with instant hook melodies, smart lyrics"
https://youtu.be/4Gd7W8LBjGo
We Make Waves are a female fronted 5 piece from West Yorks, their influences are varied which is evident in the live show where a mix of alternative rock and ambient melodies make for a fusion in their sound, previously described as "Thrice meets Blondie".