A Right Royale Tea - comedy dining experience
Amba Hotel Charing Cross, London.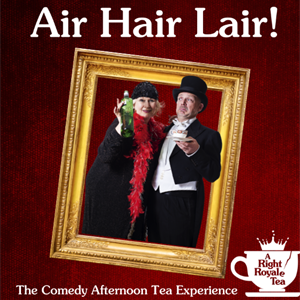 8s - 12s must be accompanied by an adult. No refunds will be given for incorrectly booked tickets.
More information about A Right Royale Tea - comedy dining experience tickets
Join Lord and Lady Right in A Right Royale Tea – a hilarious immersive and participatory comedy afternoon tea performance set in the grandeur of the British aristocracy
Guests will join the fictitious Lord and Lady Right, and their servants, as they try to raise vital funds to save their crumbling castle in this unique and original comedy dining experience.
As Lady Right gets more and more tipsy throughout the fundraiser, the Lord is on the lookout for a handsome (and rich) suitor for his beloved daughter Ginny, who is more into Harry Potter than Prince Harry. Richard, his lawyer, is desperately trying to keep everything in order, whilst trying to ensure the entertainment arrives on time. Will the mysterious painting raise enough cash to save the Right family? And who will save the day?
Expect unexpected 1920's elegance and a stiff-upper lip during a delightful traditional afternoon tea including scones, sandwiches and cakes. With mischievous maids, boisterous butlers, a magical daughter and a sumptuous songstress, what could possibly go wrong?!
In A Right Royale Tea, the audience is part of the show – actors mingle and interact with the diners, with each actor portraying a character as the story unfolds. Some of the performance is improvised, drawing from topical events and audience participation, with the remaining following a scripted narrative.
"An exciting new dining experience that brightens any cream tea"
Ron Martin, theatre producer and agent
"We were looking for something different to do, and this didn't disappoint! Funny, entertaining, and plenty of tasty food. The plot twist was amazing! Recommend. We went as a couple and that was great but definitely good for families too."
Gareth Wilson, Facebook
"Thoroughly enjoyable afternoon and a must see! The experience was fabulous and the cake was good too!"
Kim Waring, Facebook
Please inform us of any allergies or dietary requirements, or if you are celebrating a special occassion, by emailing AirHairLair@ARightRoyaleTea.co.uk, quoting your booking reference.