Eight Rounds Rapid: Lee Brilleaux Tribute
Westgarth Social Club, Middlesbrough.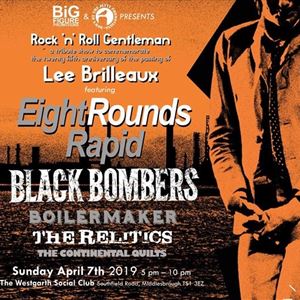 More information about Eight Rounds Rapid: Lee Brilleaux Tribute tickets
A celebration of Lee Brilleaux the vocalist of Dr Feelgood who died on the 7th April 1994 – 25 years since he passed away is taking place at Middlesbrough's Westgarth Social Club on Sunday, 7th April@5pm. A five band line-up has been assembled.
EIGHT ROUNDS RAPID are a British four-piece punk/R&B band from Southend, Essex, England. The band was formed in 2010 by drummer Lee Watkins and vocalist David Alexander, with guitarist Simon Johnson (the son of the legendary Wilko Johnson); they were joined in 2012 by bassist Jules Cooper. The band have released two albums : Lossleader (2014) and Objet D'Art (2017) to critical aplomb from the established music press. The single Channel Swimmer is indicative of what's to come; speed-thrill rhythm, finger-blistering guitar riffing and Alexander's barrow-boy snarl. You can forget the niceties of your typical landfill indie, this is rock and roll as it was meant to be. Think The Who, The Feelgoods (of course), Nine Below Zero and a rather innocuous dollop of Mark Perry's ATV with a modernist slant and you're close to the soul of ERR.
'Art Brut meets ATV, with a touch of the old Wilkos. With a smattering of all those (rather scary) old ruffians: The Inmates, Nine Below Zero, Dr Feelgood.' Everett True (Mojo)
Birmingham's Black Bombers are the main support and feature Darren Birch from The Godfathers. The know their rock & roll history their debut album shares DNA with not only classic US garage rock, but also Sun Studios blues & rockabilly and 70s British protopunk, stretching from Third World War, The Pink Fairies and Larry Wallis-era Motörhead through to the great breakthrough moment in '76, when The Damned released the first ever UK punk single, 'New Rose'.
Local bands Boilermaker (Darlington) brought up on a diet of Dr Feelgood/Eddie & The Hot Rods; The Continental Quilts (Newcastle) and The Relitics from Durham provide the backing for the rest of the line-up.