Gellert Spa Skip the line tickets
Gellert Spa Bath, Budapest.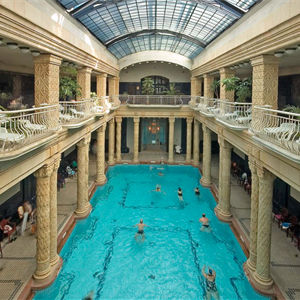 Spa Help Desk opening hours: 9AM – 6PM
Point of entry: next to Hotel Gellert
Ticket is single entry full day pass with cabin
Includes: thermal/steam/swimming sections, sauna
Mutuation/renting: towels and bathing suits available
Entry: Gellert Spa is open from 6AM to 8PM. Guests may enter between 9AM and 6PM, however they may stay until closing time.
More information about Gellert Spa Skip the line tickets tickets
Part of the famous Hotel Gellért in Buda, the Gellért Bath complex includes thermal baths that have special thermal water from Gellért hill's mineral hot springs. The bath complex was built between 1912 and 1918 in the Art Nouveau style, but healing waters in this location were found in the 13th century already, during the Turkish reign, when baths were built on this site.
The bathing facility standing here today is the most prestigious one in Budapest, visitable during any time of the year. The fast track entry tickets provide VIP entrance, so you will be able to avoid queues and relax in a luxurious environment. The large variety of treatments and Thai massages will make your experience even more relaxing.