JAZZLAND SESSIONS VOL 4 : Wandering Monster
Brudenell Social Club, Leeds.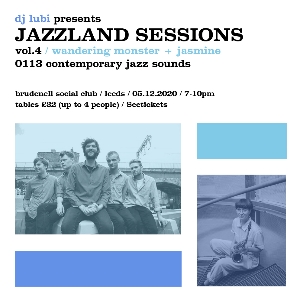 + JASMINE

Tickets £32 per table
Table bookings only : up to 4 persons per table - all tickets must be pre-booked
All tickets are seated only, capacity is very limited.
Tickets are only available to pre book via our links advertised on our site and will be digital only.
All seats sold are allocated, we will auto allocate your seating.
Compliant with current government guidance we will follow all current restrictions for events and hospitality.
On arrival digital tickets will be shown to greeter who will show customers to their seats.
Sanitiser stations can be found throughout the building, we encourage all customers to use these at regular intervals. If going to use the toilets.
Face masks are mandatory when moving around the venue, you will need to bring your own, we will not provide PPE for patrons.
Once seated you may remove your face mask if you choose to.
Adhering to government guidelines, standing, dancing and singing along at volume during the event is not permitted.
If you do not follow to this guidance, you may be asked to leave.
The venue will be sanitised, and covid cold-fogged prior to performance.
Please DO NOT attend the event if you have symptoms of COVID-19.
For further information on the venue's safety measures, visit the venue website.
By purchasing tickets you agree to the above terms and conditions.
More information about JAZZLAND SESSIONS VOL 4 : Wandering Monster tickets
For the final Jazzland Sessions of 2020 at the Brudenell Social Club, two of Leeds' finest contemporary jazz groups will be taking to the stage. Both play original music that fuses a variety of influence. Both are Leeds bands making waves across the UK and beyond. Jazzland Sessions Vol 4 featuring Wandering Monster and Jasmine. Here's some biography.
Described as thoughtful, energetic, serpentine, embryonic, boisterous, episodic and nuanced, Wandering Monster reach beyond what may be expected from the tried and tested line-up of the tenor saxophone/guitar quintet. The group showcase their love for world music, rock and metal whilst continuously trying to learn from the trailblazers of Black American music and improvised music. These influences result in a sound that is intense and raucous, yet dynamic, sensitive, spontaneous and intellectual. The band's eponymous debut album was released in 2019 on Ubuntu Music to much critical acclaim. 2020 will see the release of two singles in which the outfit continue to blend the performance of involved written material with exciting collective improvisation.

Wandering Monster are : Sam Quintana - double bass/compositions, Ben Powling- tenor saxophone, Calvin Travers- guitar, Aleks Podraza- piano/keys, Tom Higham- drums.
Jasmine are an electric jazz ensemble led by alto saxophonist Jasmine Whalley. They perform original music which is a blend of jazz and electronic music. A unique and current sound inspired by artists including Kenny Wheeler and Bonobo.
Since forming at Leeds College Of Music several years ago and gigging at some of Leeds' most popular music venues such as Belgrave Music Hall, Seven Arts, The Wardrobe and Hyde Park Book Club, Jasmine have become well known on the Leeds jazz scene as well as contributing to the wider UK jazz scene for a number of years.
In July 2018, they were selected to take part in the "Jazz North Introduces" scheme, which supports emerging artists based in the region. This was a huge achievement for the band and soon after, they began working on their debut EP, "Bring To Light'', which was released in April 2019, followed soon after by a single entitled "Blackout" (both well received by the critics). Over the last few years, they have been gigging across the UK, including cities such as Sheffield, York and Manchester plus renowned jazz festivals including Manchester Jazz, Marsden Jazz, Scarborough Jazz, Durham Jazz and Gilles Petewrson's We Out Here Festival. The band are currently working on their debut album, which is set to be released in July 2021.
Jasmine are : Jasmine Whalley - alto saxophone, Ben Haskins - guitar, George MacDonald - piano, Owen Burns - electric bass guitar, George Hall - drums.
This concert will fully comply with existing government COVID-19 safety regulations. You can check these at the venue's website.
Tickets £32 per table
Table bookings only : up to 4 persons per table - all tickets must be pre-booked.

***if government COVID-19 rules change regarding public places and venues are closed again, this event will be postponed and rescheduled to a later date and all tickets sold will be valid for a new date***