LETZ-ZEP
Roadmender, Northampton.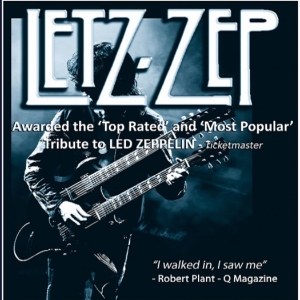 More information about LETZ-ZEP tickets
"I walked in, I saw me"
That was the comment in Q magazine by Robert Plant himself on the Letz Zep gig he attended in London, he continued to say that it is like watching himself on stage! Robert also commented that the physical similarity between himself and Letz Zep vocalist Billy Kulke is 'Spooky'.
Plant also gave the band his blessing when interviewed on VH1 TV show 'In The Round'.
Letz Zep are the official number one tribute to Led Zeppelin and Baby They Ain't Foolin'
An achievement marked by the authoritative Ticketmaster organisation when they awarded the band 'The Most Popular' and 'The Most Highly Rated' tribute to Led Zeppelin today.
Letz Zep are the best known and most successful tribute to Led Zeppelin and have written a page into the history of tribute bands with their achievements.
Jimmy Page has also attended a gig by Letz Zep when he invited he band to join him after the show. He complimented the band on the performance.
"That was ambitious, but you pulled it off", said Jimmy about the set Letz Zep performed in his presence.
"I've been hearing a lot of good things about your band, we have a lot of mutual friends so stay in touch" Jimmy continued "You have captured the spirit of Led Zeppelin concerts, you really are very, very good".
Jimmy was then kind enough to personally invite Letz Zep to perform at the prestigious official launch party for the Led Zeppelin 'Mothership' release, and also the launch party for the remastered 'The Song Remains The Same' DVD
Letz Zep were invited to the 02 reunion show and also to the premiere for the DVD 'Celebration Day' with Led Zeppelin in Hammersmith, London.
Letz Zep were honoured and proud to perform a headline set at the 'John Bonham – A Celebration' concert. To celebrate the life and legacy of the great John Bonham and to coincide with the unveiling of a bronze statue to the legendary percussionist in his home-town of Redditch.
Warner music themselves name Letz Zep as 'Europe's best tribute to Led Zeppelin' and they should know, being the record lable for Led Zeppelin themselves.
Letz Zep currently have 7 live albums and 2 DVDs available, distributed via Sony Music to over one million listeners worldwide. There are also two books on the band available worldwide on Amazon.
Letz Zep is formed by talented and respected musicians who are all true Zep fans with a strong musical pedigree. Its members have toured with artist such as Ozzy Osbourne, Roger Daltrey, Debbie Bonham, Guy Chambers, Steve Hackett, Dr Feelgood, Saxon and Uriah Heep, to name but a few.
Described in Kerrang! Magazine as 'Better than a Led Zeppelin Re-union', all four members possess the considerable musical ability required to a completely convincing recreation of Led Zeppelin in their prime, complete with the 'tight but loose' trademark element so essential to the raw excitement of a Led Zeppelin concert.
Rub your eyes in wonder at the territories in which British band Letz Zep perform. France, Spain, Germany, Russia, Italy, Sweden, Finland, Sweden, Brazil, Mexico, Venezuela, Australia, New Zealand the list goes on…. and on! Taking in over 50 countries on four continents. Bringing the music of Led Zeppelin to new generations and confirming Letz Zep a truly global act.