NECRONOMIDOL European Inquisition 2019
The Tooth and Claw, Inverness.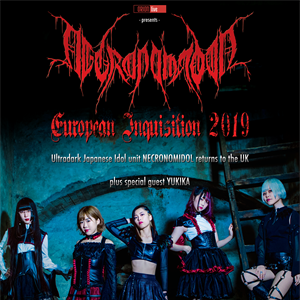 More information about NECRONOMIDOL European Inquisition 2019 tickets
Necronomidol comes to Scotland for the first time!
NECRONOMIDOL is an ultradark Japanese idol unit based in Tokyo taking inspiration from HP Lovecraft's Cthulhu Mythos and Japanese horror.
Formed in March of 2014, NECRONOMIDOL has played hundreds of shows in Japan and abroad including solo shows at Shinjuku LOFT, Shibuya www and Ebisu LIQUIDROOM. The group has embarked on multiple tours across the United States and Europe and now return to the UK for a third time!
NECRONOMIDOL's songs range in style from black metal and NWOBHM to darkwave and witch house. They are known for otherworldly choreography and explosive stage performances. NECRONOMIDOL's physical releases are distributed domestically in Japan by Disk Union and are also available online via Bandcamp, iTunes, Spotify and other streaming services. Numerous international labels, including France's Specific Records, have released NECRONOMIDOL's music internationally.

In 2018, NECRONOMIDOL headlined the successful Black Winds Over Albion tour and now returns to the UK as part of their European Inquisition tour 2019.

www.necronomidol.com
www.twitter.com/necronomidol
www.facebook.com/necronomidol
https://necronomidol.bandcamp.com/