Punishment of Luxury / Blue Orchids
Westgarth Social Club, Middlesbrough.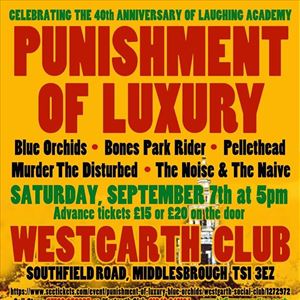 This gig will take place in the upstairs room of Westgarth Social Club. Disabled access is limited as their is no lift but for further info contact the venue on 01642 242164. U16s are allowed as long as they are accompanied by an adult. There is parking access for around eight vehicles within the grounds of the venue. Street parking is NOT enforced on weekends. You can drink and smoke outside the venue.
Under 16s must be accompanied by an adult. We cannot issue refunds to under 16s who are not accompanied by an adult.
More information about Punishment of Luxury / Blue Orchids tickets
PUNISHMENT OF LUXURY

Taking their name from an 1891 painting by Giovanni Segantini displayed in the Walker Art Gallery, Liverpool, Punishment of Luxury are an unorthodox art-punk band who have been favourably compared to XTC, Roxy Music and Killing Joke and known for quirky live shows. They formed in December 1976 in Newcastle, releasing their debut single, "Puppet Life" on the Small Wonder label in July 1978. In 1979 they signed to United Artists and released the singles "Engine Of Excess" and "Secrets", and the album 'Laughing Academy' . They were one of the highlights of 1979's Reading Festival, playing after The Cure and before The Tourists and Motorhead. The band also recorded 2 John Peel sessions and played Middlesbrough Rock Garden on at least four occasions.
The original line-up split in 1980 and the remaining members Neville Luxury, Brian Bond, and Jimi Giro recruited new members and changed the band name to Punilux. They released a further album on the Red Rhino label, 7 in 1983, before a final split.

In 2007 they reunited and played a few songs for the bassist Jimi Giro's 50th birthday party. They have played occasional shows since then, originally coming back to Teesside in Dec 2010 and 2013. More recently they played a great show with The Cravats in Middlesbrough in July 2016 as part of a Small Wonder Records evening and they also released a new album '5'.

The Blue Orchids were formed in Manchester in 1979 around Martin Bramah (vocals and guitar) and Una Baines (keyboards), both founder members of The Fall. Rough Trade, snapped up the Orchids in the summer of 1980 and released their first double a-sided single in October. The Flood b/w Disney Boys was co-produced by Mayo Thompson of Pere Ubu fame.

The next Blue Orchids single is widely regarded as their best, coupling strident song Work with a more haunting flipside, The House That Faded Out. Work is best described as cracked soul music also boosted by a support slot on the first national tour by Echo and the Bunnymen in April.

An album now beckoned in the spring of 1981, and in just two weeks completed The Greatest Hit. Self-produced, and with no previous singles included, the album was released by Rough Trade in May. Mat Smith of NME praised "one of the best albums we're likely to hear all year." The Greatest Hit topped the independent charts and went on to sell around 10,000 copies.

During this period the band was introduced to Nico, the legendary Velvet Underground and Warhol superstar who was by then living in the Whalley Range district of Manchester and struggling with a hard drug habit. For much of 1981 the Blue Orchids became both her backing band and support act on a succession of UK dates, as well as a Dutch tour in the spring of 1982.

Numerous line-up changes followed. The present line-up have played twice before for us in Stockton headlining a John Peel Festival and supporting The Nightingales in Middlesbrough at a sold out show at the Westgarth.