The Magic of Iain Shaw - Comedy Cabaret Magic Show
The Venue, Stocksbridge, Sheffield.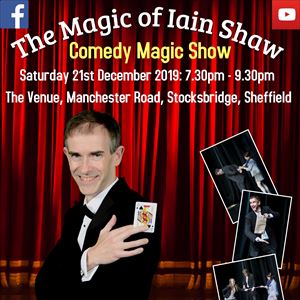 Are You Ready to Escape Reality? Do You Believe in Magic? The Time to Believe is Now.
The Magic of Iain Shaw delivers the Ultimate Entertainment Experience.
The show features clever conjuring, a slick sleight of hand and an element of danger, incorporating comedy and humour.
Watch as Iain creates elaborate and thrilling tricks with mind blowing predictions, which will leave you totally mystified and thirsty for more.
More information about The Magic of Iain Shaw - Comedy Cabaret Magic Show tickets
For almost 25 years, Iain Shaw has captivated audiences around the world, with his stunning magic and incredible illusions. As well as his stage show, Iain performs close-up magic, and particularly enjoys seeing the sparkle in the eyes of those who are amazed by the seemingly impossible.
Since the age of 5, magic and illusion has always been Iain's passion. During his career as a magician, he has worked in theatre, on TV and has many years' experience performing and directing his own stage shows on cruise ships. Iain started working on cruise ships when he was just 20 years old, producing outstanding performances for companies like SilverSea, Norwegian Cruise Line, Marella, Royal Caribbean, Fred Olsen and CMV.
In addition to his experience on cruise ships, Iain has worked with Peter Kay on the TV show "Britain's Got The Pop Factor", where he performed an exceptional levitation illusion. He has also worked in theatre across the UK with celebrities like Bobby Davro and Cannon and Ball.