The Quireboys + FM + Bad Touch + Vega
KK's Steel Mill, Wolverhampton.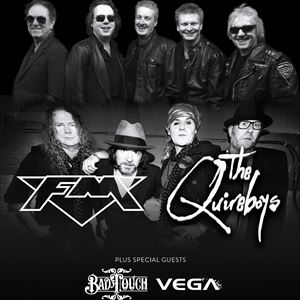 More information about The Quireboys + FM + Bad Touch + Vega tickets
Co-Headliners FM and The Quireboyshead out on tour together in April 2019, along with special guests Bad Touchand VEGA. The strong 4 band line up will play 7 dates as part of their UK Tour, with the tour finale heading for KK's Steel Mill in Wolverhampton.
In 2019 both headliners will celebrate 35 years since their inception in 1984.FMhave released their latest new music in March of 2018 with the 'Atomic Generation' album release, featuring singles 'Black Magic' and 'Killed By Love'. The Quireboyswill be out on tour following the release of their eagerly awaited 12thStudio album 'Amazing Disgrace' due in March 2019.
The 5 piece Norfolk based band Bad Touchwill be offering up support. Making quite a name for themselves, with heavy guitar riffs and strong vocals these guys are one of the leading names as part of the #NWOCR in the UK.
VEGAcomplete the line up, performing many of their melodic Rock classics enthused with energetic stage presence.