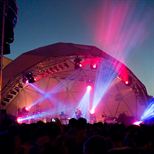 Tickets for events at Garden Festival Site
Garden Festival Site tickets
Sorry, there are no shows on sale at Garden Festival Site right now.
This picture perfect town is the ultimate place for a festival. Located just a short walk from the town of Tisno, The Garden site provides a host of restaurants, cafes, apartments and small boutique hotels. The festival site is on a gorgeous strip of coastline where the Dalmatian Coast meets the Adriatic Sea. Within the festival site itself and built up on the hills overlooking the bay is a small onsite apartment village and luxury boutique camping for those who want to be as close to the action as possible whilst a short walk around the bay there is an abundance of beds in the stunning setting of Tisno. The Garden also has its own dock and provides daily boat parties.
By Train
Catch the Eurostar to Northern Italy and then take a train through Slovenia into Croatia, although please be advised that the buses in Croatia are much quicker than the trains.